Human Rock-Paper-Scissors
Human Rock-Paper-Scissors is a fun, quick party game that is useful for many different kinds of settings.  It works for all ages as well, making it a versatile game.
It works best for medium sized groups, but you can easily adapt larger groups by subdividing into smaller groups.  The game is a fun twist on the classic hand game, rock-paper-scissors — but instead of using your hands, players must act together as a team, rather than as individuals.
Setup for Human Rock-Paper-Scissors
All players (together as one large group) must determine a full-body pose that will signify each element.  For example:
Rock: each person in one group will bend down and hug their knees and curl into a ball so they look like a rock
Scissors: each person in one group will stand with legs shoulder-width apart and both arms up and hands behind the head so they look like a scissor.
Paper: each person raises their hands and makes their body very flat like a sheet of paper.
Instructions for How to Play Human Rock-Paper Scissors
Form two groups of about ten people in each group (or subdivide into smaller groups if your group size is too large).
For each round, each group will need to choose to do one of the poses, all in unison.  Before each round, each group gets a few minutes to decide which pose (rock, paper, or scissors) to do with their bodies.  Have a facilitator gather the teams together, and say "Three, Two, One, Shoot!"
On "Shoot!" everyone must immediately form their pose.  Just as in the original game Rock-Paper-Scissors, the Rock symbol beats Scissors, Scissors beat Paper, and Paper beats Rock.  Play as many rounds as you wish, for example until one team reaches seven points.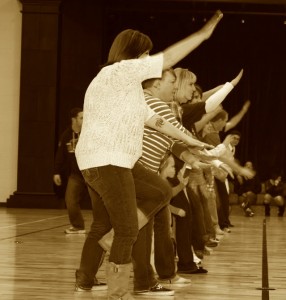 Variations
A fun aspect of this game is that there are many variants of the game that can be played.  Try the ones below — or if you're feeling creative, try making up your own ideas!
Lord of the Rings – Hobbit, Elf, Orc (Orc beats Hobbit, Elf beats Orc, Hobbit beats Elf)
Super Heroes – Batman, Spiderman, Green Lantern (Spiderman beats Batman, Batman beats Green Lantern, Green Lantern beats Spiderman)