Shoe Game (Wedding)
Looking for a funny game that can be played at an engagement party or wedding? Look no further than the Shoe Game! This game is sure to get the whole group laughing and will be talked about long after your event. While usually played between a bride and groom or engaged couple, it can also be switched up to celebrate two best friends or siblings.
This game involves a fair amount of preparation, but you'll be glad you took a few extra minutes getting this game together once everything is said and done. The best part about this game is that you won't have to keep explaining the rules to everyone. The only people that actually play are the bride and groom- everyone else just laughs and takes pictures. Just follow the instructions below and have fun!
Setup for the Shoe Game
Planning
This game is a fun and interactive way to focus the attention of the group on the couple that is being celebrated. For the purpose of this set of instructions, we'll assume that you're planning to play the Shoe Game at a wedding. All you'll need to do for the planning stage of this game is to create a list of questions to ask the bride and groom. You'll want to shoot for 15-20 questions to ask.
A downloadable document with sample questions is provided below if you're feeling stumped.  Questions should be funny, such as "Who is the better chef?" or "Who is the crazier driver?"
Aside from compiling the list and gathering the few other materials, you'll just need to choose someone who will be asking the questions to the bride and groom during your event.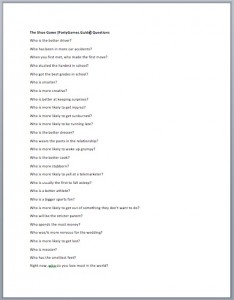 Download our sample Shoe Game Questions list here.
Materials
For this game, you will need the following items:
Two chairs
A pair of shoes for each person (the ones they are wearing)
A list of questions to ask throughout the game
Note: One of the reasons that the Shoe Game is so successful at weddings is due to the fact that the bride is almost always wearing white heels and the groom tuxedo shoes. No matter what kind of event you're planning, you'll want to make sure that the two pairs of shoes are very different, so that guests can differentiate between them even from a distance.
Playing the Shoe Game
Set up the two chairs facing back to back in the middle of the dance floor and have the bride and groom sit down (they should not be able to see each other). Give each of them one of each of their shoes. They should be holding one of their own shoes and one of their partner's shoes. Questions from your previously-prepared list will be read one at a time. After each question is asked, the bride and groom will raise up the shoe of the person who best answers the question. For example: Which person is a better driver? To prevent your guests from tuning out and getting bored, try to gauge their involvement in the game after 12-15 questions. If they don't seem to be involved, you can finish up there, but if they're begging for more and cameras are flashing, keep going with your list! There is no winner, loser, or score to this game, just a fun way for everyone to get to know the couple a little better and celebrate their relationship.