Charades
Charades is a classic party game.  No talking is allowed! Get your group to guess the clue by acting things out with your body.
You can play Charades with any size group, but we recommend a group size of 4-6 people per team.  For very large groups, you can ask for six volunteers and have the Charades game take place at the front of the stage.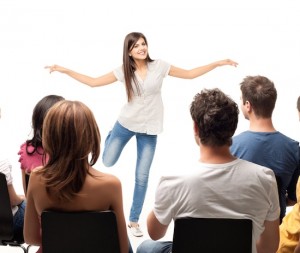 How Do You Play Charades?
Setup
Prepare clues by writing funny situations, actions ,famous people or things on small slips of paper.  If you have trouble thinking of clues, try our sample world list below.  These clues will be acted out by players.  Split players into two teams.
Playing Charades
To play, have each team choose someone who will be the actor for that round.  If you wish to make this a simultaneously competitive game, have both actors go at the same time.  Show these players their clues. Set a one-minute timer.  Say "GO!" and then the round begins.
The actors must use non-verbal (no talking) motions to try to get their team to successfully guess the clue.  Players cannot use props or make any noises at all.
For each successfully guessed clue, the team earns one point.  Get as many clues guessed successfully as possible during the one minute timer.
Sample Word List
Here is a sample bank of words to get you started.  Write each of these down on a slip of paper to be acted out!
Monkey
Beaver
Getting drunk
Going shopping
Delivering mail
Breakfast in bed
Lifting weights
Driving a taxi
McDonald's
Playing guitar
Scoring in football
Getting a haircut
Porcupine
Exploding can of soda
Supermodel
Army soldier
Baking a cake
Winning a singing contest
Secret agent
Food poisoning
Falling asleep
Taking the train
Speed dating
Late for work
Skydiving